Could Janoris Jenkins Be The Next Pacman?
By: Jared Ramos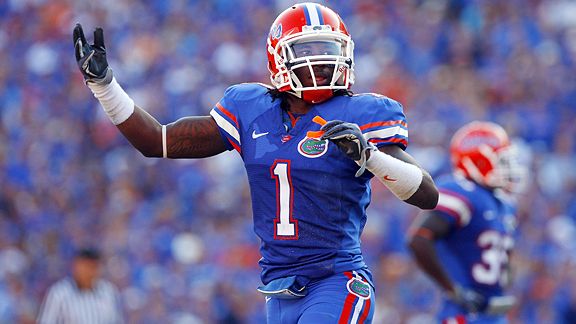 There is no question Janoris Jenkins is a talented player. He would have went in the top 10 if he wasn't for the fact he got kicked out of Florida for having to many run ins with the law. Does his situation sound familiar? It should. It's Pacman Jones 2.0.
If you thought he was going to go to the NFL and leave all his problems in college, well you're wrong. Jenkins has yet to sign his contract because he and the Rams are arguing over who he should have as his financial advisor.
"Rams coach Jeff Fisher, according to four sources familiar with the situation, wants Lou Taylor of Tri Star Sports & Entertainment Group to advise Jenkins. The second-round pick, projected by some evaluators as a top 10 talent, has signed at least one set of documents with Taylor's company, a copy of which has been obtained by Yahoo! Sports, although Taylor strongly denied last week that she is working with Jenkins." reports Yahoo Sports Jason Cole.
The reason Fisher wants Jenkins to have an advisor so bad is because he has four children with three women and is behind on his child support. The problem is that kind of condition is not allowed under the current CBA. If Jenkins does goes with Taylor it would cost him $120,000 over four years. Taylor would be responsible for making sure Jenkins pays his child support and is on a budget.
Jenkins has a lot of talent and it would be a shame to see him turn into the next Pacman. It's time to grow up. Do you really need to pay someone $120,000 to remind you to pay your child support and not make it rain in the club?