Kerry Wood: The Story Of A CUB
By: Mike Asti
Kerry Wood retired from baseball. In 2012 that headline is a blip on the sports news ticker. However, if you really think about it, his career embodies something very special in the sports lexicon: the curse of all curses can be best explained through the career of Kerry Wood. One of the oldest professional franchises in sports history, the Chicago Cubs, is also one of the least successful organizations ever. But it wasn't always the case.
Dating back to pre-Wotld Series time, the Cubs began their existence as a dominating squad that was a force to be reckoned with. Even though the back to back titles in 1907 and 1908 (still the last championship), were the only time the Cubs sat at the top of the baseball mountain, the team from Chicago's South Side was always competitive and a legit contender. Most people snicker and incorrectly believe the Cubs have been nothing but putrid since the 08 crown. That couldn't be more false. Dating back to even the 1940's took reign over the National League and hung pennants. However, once the Golden Age died so did the Cubs. Black cats, dumb fans, and incredible bad happen chances plagued one of baseball's darling franchises over the past 7+ decades. The Chicago Cubs are known for losing. During the Red Sox Curse of the Bambino era, they continuously found a way to ruin what seemed to be a great situation. When things began to all come together something a 140 lb slap hitting Short Stop hit a bomb or a borderline Hall of Fame first baseman (known as a stellar fielder) let the ball roll between his legs to squash the hopes of a nation. With the Cubs, it wasn't even like that. It was worse. Chicago rarely ever even had a shot. The Cub franchise, which has been around since 1876, only has 18 total playoff appearances. Forget a damn championship, most Cubs fans would sell their first born to just get in the freakin' dance. It was until 2001 that baseball Gods even allowed former Cubs to capture World Series glory. Mark Grace and Louis Gonzalez earned rings with the 2001 Arizona Diamondbacks, allowing Cubs fans to live vicariously through them. That happiness didn't last.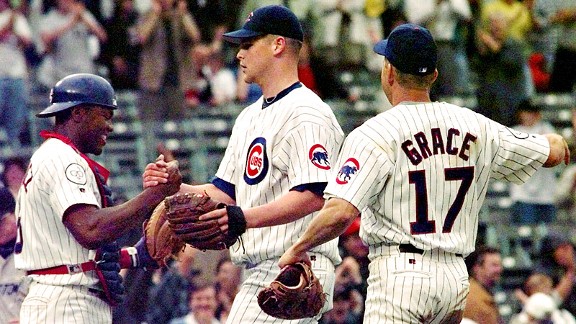 Just like the plight of the Cubs started off as a path to dominance over baseball, only to end up in a miserable never ending existence, so was the career of Kerry Wood. Upon walking on the mound, Wood was pegged as the "Next Big Thing" of pitching. He was a flame throwing, arrogant prick, who struck out batters as often as most of us take a breath. Obvious sarcasm, but seriously this guy was a beast. Kerry Wood was so good from the start, he actually tied a record for strike outs in a game. There are two Texans recognized as the single game strike out kings, Roger Clemens and you guessed it, Kerry Wood. The Cub fanned 20 batters on May 6th, 1998 in only his 5th career start. He tossed a one hit gem against a Houston Astro team that included two Hall of Fame caliber players, Craig Biggio and Jeff Bagwell in their primes. Wood's rookie year is often overlooked, due to, the year it took place. 1998 was all about the home run (steroid induced or not). As the commercial said, chicks dig the long ball. From that 20 K day on for the next 5 or so seasons, Wood was thought to be the savior. That stud ace that could lead the ultimate curse to the promise land. Cubs fans stopped crying over the loss of Greg Maddux and began to start appreciating all that was Kerry Wood. Then came 2003. Not only was Wood still soaking up the sun at Wrigley, but Batman appeared to have found his Robin. Mark Prior emerged as another Cub sensation. Before Strasburg Mania, Prior was the hype machine of baseball. Wood and Prior together was a one – two punch that took the summer by storm. Coupled with a powerful offense, the Cubs not only reached the post-season, they soared on the brink of their first Fall Classic since 1945.
We all know what happened next. In the midst of a National League pennant clinching game, a fan reached for a fly ball (Alou would not have caught it if you ask me) and the dominoes fell from there. Steve Bartman symbolized 100 years of futility. A ridiculous occurrence that wouldn't happen to any other team. The Halloween costumes were out and the jokes flied. Ever since that faithful night with Cubs fans dreaming of the World Series, Kerry Wood was never the same. The last time he won double digits? 2003. The last time Wood threw 200+ innings? 2003. See a pattern here? Ironically 2003 was Wood's best overall season. "Kid K" accumulated 266 strikeouts, his third straight 200+ K year and fourth overall. If you're wondering, he never even sniffed 100 strikeouts again.
Injuries forced Wood to see less than 100 total innings from 2005 to 2007. A decision then was made to send Wood into the bullpen. This appeared to be a career saving maneuver. It only delayed the inevitable. While it actually seemed like a genius move at the time, allowing this once strike out machine to work quick and wrap up Cub wins, his intimidation was gone. Following a 34 save season in 2008, Wood completed 20 saves the next year. Then, it was over. Relegated to a brief stint as a set-up man and even cast off to Cleveland and sports exact opposite of the Cubs, New York's Yankees, Kerry Wood was just "working" as a baseball player. He no longer was setting the world on fire en route to the Hall of Fame. The only thing Cooperstown will own with Kerry Wood's name on it is the ball from his 20 K day. A day that just now embodies everything and anything that has gone wrong with the Chicago Cubs franchise.
Kerry Wood's last outing, against the rival and formerly a partner in curses, the crosstown Chicago White Sox, saw him sent off with fanfare. Wood was called from the pen. Wood faced one batter. Wood struck out his man….a three pitch K too! Wood received applause. Tipped his cap. Everyone was all smiles remembering the kid who had the filthy "stuff" no one could handle. What they weren't think of, but can't be ignored, that same "kid" evolved into a baseball failure. An 18 year career as a pitcher at the highest level is nothing to sneeze at by any means. Unfortunately, Kerry Wood could've been so much more. Now disappointment, bust, and failure will forever be associated with the man who will also eternally be linked with Roger Clemens. Crazy, huh? As Kerry Wood says goodbye to baseball, he will not be saying hello to Cooperstown, he will be saying hi to his recliner and a six pack washing away sorrows of a Hall of Fame career that should've been, yet wasn't.
Kerry Wood was once great. Then, it all fell apart never to be repaired. Sound familiar? The Chicago Cubs began their inception as a power house. The Chicago Cubs are now a laughing stock never to be repaired. Yup, Kerry Wood will rock a Cubs hat in the Major League Baseball Hall of Shame. There couldn't be a more suitable player to team pair possible.