NBA Playoff Player Rankings: First Round
By: Marcus Ferro
I have to apologize for being silent on BDL throughout the first round of the playoffs. Being a law student during finals week, you have little time to do anything that isn't reading or breathing. But, I'm back! After every round I'll ranking the top playoff performers 1-10. Here are my first round rankings.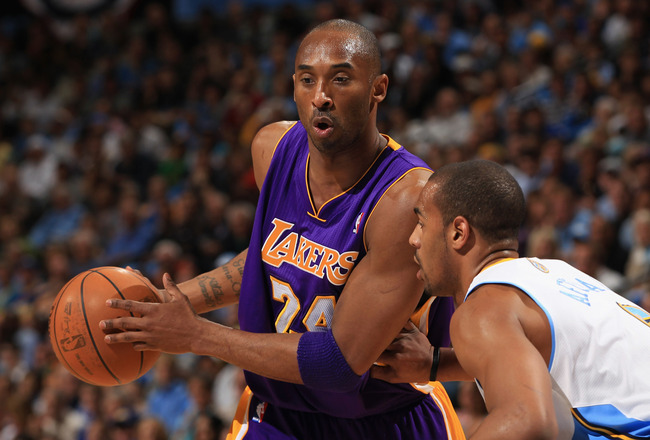 LeBron James, Miami Heat
Stats: 27.8ppg, 6.2rpg, 5.6apg 2.2spg
The now 3xMVP has been the best player all year and he has carried his dominance into the playoffs. At this point, the only player that can stop LeBron James , is LeBron James.
Kobe Bryant, Los Angeles Lakers
Stats: 29.1ppg, 4.6rpg 5apg
The unreasonably close series with Denver is little fault of Kobe's. Whatever those mad German scientists did to Kobe last summer needs to be done in every offseason.
Chris Paul, Los Angeles Clippers
Stats: 20.4ppg, 5rpg, 7.1apg. After defeating the Grizzlies on their court in Game 7, CP3 may have established himself the best Clipper ever. In that first round series, the more talented, more completed  and better coached team lost, because they didn't have Chris Paul.
Kevin Durant, Oklahoma City Thunder
Stats: 26.5ppg, 7.5apg, 3.8apg, 1spg, 1.8bpg
He started off the series playing poorly, but picked it up the last two games in a clean sweep of the defending champion Mavericks. With no stable inside offense to fall back on, he's going to need to bring it every game if the Thunder are going to make it out of the Wild West.
Dwayne Wade, Miami Heat
Stats: 21ppg, 3rpg, 4apg, 2.8spg, 1.2bpg
These are Wade's worst playoff numbers since his rookie season, but he's still playing at a level of efficiency that is matched by few and surpassed by even fewer.
Kevin Garnett, Boston Celtics
Stats: 18.7ppg, 10.5rpg, 2apg, 1.3spg  1.8bpg
This Celtics team may not be as good as they were in '08, but Kevin Garnett is playing at the same level he was back then. With his contract up this summer and Boston's title window just about closing, he has every reason to ball-out, and he's done just that.
Paul Pierce, Boston Celtics
Stats: 21.2ppg, 6.3rpg, 3.8apg, 1.3spg
When all is said and done, Pierce should go down as one of the best big game performers to ever play. It's like Bill Simmons said in his recent column on The Truth, Pierce knew without Rondo and Allen in Game 2, he would need to have a great game, and he did just that. Tebow away, Pierce.
Tony Parker, San Antonio Spurs
Stats: 21ppg 3.5rpg, 6.5apg
Parker's been the best player on the best team in basketball, there's really nothing more to say than that.
Carmelo Anthony, New York Knicks
Stats: 27.8ppg 8.2rpg, 2.2apg, 1.2spg
He's the only player I ranked that didn't advance. It's easy to blame 'Melo for New Yorks trials, and the star always has to take some of the blame, but I put the fault mostly on management for taking square pegs and jamming them into round holes.
Rajon Rondo, Boston Celtics
Stats : 16.8ppg, 5.6rpg, 11.8apg, 3.5spg
He's been outstanding in these playoffs. I would rank him higher, but keeping a level head is of utmost importance in the playoffs, and this dumbass chest bumped a referee, which got him booted from a close game and miss the second game forcing his teammates to pickup his slack.