Football is Back: Fantasy Ragnkings part 2, The Running Backs
By: Brian McLaughlin
The most important position in fantasy football is running back but it also may be the toughest position to draft. Here are the top 40 running backs for 2011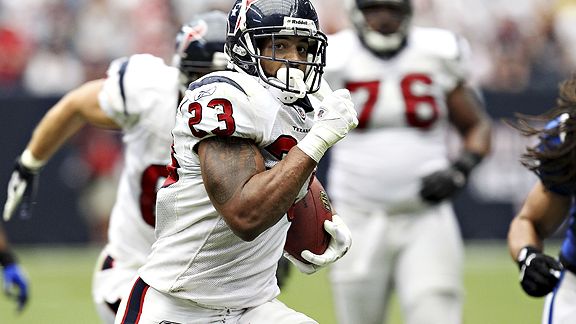 1. Arian Foster- Foster came out of nowhere last season to take the fantasy world by storm posting 16 rushing tds and adding 1614 yards. He did slow down toward the end of the season but I do not see that continuing this season. Houston has a very good system for a running back to succeed as we saw last season. Also this team should be better than they were last year and have a soft schedule, which bode well for Foster. Throw out the 1 year wonder he is a legitimate fantasy force and will continue his success this season expect 13-16 tds and to be right around the 1600 yard mark again this season.
2. Jamaal Charles I like Charles a lot this season, he really became a fantasy force and should only get better this season. He had 1467 yards last season but only five scores. Charles should be an even bigger part of the Chief's offense this season as Thomas Jones is year older and should be less of a factor this season. They did add Le'ron Mcclain that could take some goal line carries away, but Charles will be the focal point of an offense that is on the rise. Look for Charles to be right around 1500 yards and get into the end zone 10-12 times in a career year.

3. Adrian Peterson You may be surprised to see AP as the number three rated RB. However AP is a year older and is working with a very depleted offensive line to say the least. Adrian Peterson is a monster, there is no debate over that, but he is an injury risk and with a line that may be one of the leagues worst, only increases that risk. AP is in a contract year and he will still be one of the top running backs when it is all said and done, but this may not be the AP year we are accustomed too.  Look for 1050-1200 yards with anywhere from 8-12 tds.
4. Ray Rice- Rice reminds me a lot of Eddie George in that he is not a guy who will get you the big play but is still among the most solid and reliable fantasy backs out there. This may be the year for the fourth year back to post career highs in both yards and tds. The Ravens parted ways with both Willis Mcgahee and Le'ron Mcclain and brought in Ricky Williams as the new back up. This is a big Boost for Rice as he will undoubtedly be the top option for the ravens and will see more goal line touches unlike years past. Rice should hit 10-12 tds without a problem and should post over 1200 yards.
5. Chris Johnson- Chris Johnson is still a top fantasy talent and an elite rb1 option. What hurts CJ is that the Titans are really not a great team and do not have a whole lot around him. Also Johnson is the midst of a holdout and will seemingly not have a lot of work in the preseason. When Johnson does get his new contract he should still have a big year and could easily be the top back heading into next season. Johnson should be over 10 scores and rack up big yardage again this season.
6. Lesean McCoy – This should be a breakout year for the third year running back. McCoy like his teammate Desean Jackson willbe looking to get paid next offseason and will use that as big motivation this season. I see McCoy being an even bigger part of the Eagles offense this season similar to how Brian Westbrook was used by Andy Reid. Look for McCoy to have about 15 total tds and 1600 total yards, as he will be a big threat in the receiving game as well as the rushing game.
7. Rashard Mendenhall -Mendenhall had a very solid season last year as he became one of the top fantasy backs and should continue that this season. We know the Steelers love to run the football and this year should be no different. They do not have the best offensive line, but Mendenhall is in the middle of the prime of his career and should post numbers very similar to last year, he is an elite rb1
8. Shonn Greene- I like may others were a year too early on Shonn Greene but he is the clear-cut number one option for the New York Jets and he may be their top option on offense this season. I expect the Jets to be more of a grind it out team this year more than ever and will ride Greene this season. LT should not be a factor as Greene looks to have a big year. I wouldn't be hard to see Greene hitting double digits in tds and going over 1100 yards.
9. Michael Turner- Turner is coming off another solid season, however he is now 29 and is starting to gain some mileage on his tires. I believe Atlanta will also start to rely on Matt Ryan more on offense and that also could decrease Turners production a bit. He should still be good for another season and at this stage is still a viable rb1.
10. Darren Mcfadden- Mcfadden had a very impressive season and looks poised for another big year. He has all the skill in the world and possesses both a threat at running back and as a receiver. I like Mcfadden a lot and would not be surprised if he ended up as a top 5-fantasy running back, but you just never know with the Oakland Raiders.
11. Frank Gore- Gore's season unfortunately came to an end due to a fractured hip in week 12, but he should be ready to bounce back this season. Gore should be implemented right back into the 49er offense and be again heavily leaned on. The 49ers may be the best overall team in the west and new coach Jim Harbaugh should be able to make Gore even more productive this coming season. Gore at worst is an excellent number two back.
12. Ahmad Bradshaw- Bradshaw re-signed with the Giants for significantly less than he hoped for. This should motivate Bradshaw to show what other team missed out on, which is a good thing for fantasy owners. He is only 24 and had a very solid season in 2010. Look for Bradshaw to improve even more this season as he is just entering his prime. He will be a very solid fantasy performer this season.
13. Maurice Jones-Drew- MJD really scares me this season, but he always finds a way to prove the doubters wrong. He is getting older, has taken a lot of punishment and has had a number of injuries. Rashad Jennings also should push MJD for carries as he did at the end of last season. Buyers beware on Jones-Drew, you don't want to reach for him and you also do not want to take a lesser talent. Keep an eye on how camp and the pre season go.
14. Daniel Thomas- I like this Miami Dolphins rookie a lot mainly because of the golden opportunity he has in front of him. The Dolphins decided to part ways with both Ronnie Brown and Ricky Williams and invested in Kansas State product Daniel Thomas. He is a big back who will be the starter right away and fits well into what the Dolphins want to do on offense. He will get the bulk of the carries and with the Miami QB situation he may be the focal point of their offense. The Dolphins also have a great offensive line that will open holes for the rookie. The team did add Reggie Bush but that should not have an impact on what Thomas can bring. Rookie running backs also tend to have big years so do not sleep on Daniel Thomas come draft day.
15. Matt Forte- Forte is a solid back who is also in the middle of the prime of his career. He should have another solid year in 2011 after his contract dispute gets taken care off. Forte should be a bigger part of the offense this season and should go for around 12 total tds this season. He is as solid as you can get as a number 2 back.
16. Steven Jackson- Jackson is another guy who is racking up the mileage, but he still produces. If S-Jax can stay healthy he will be a great fantasy option. He has tremendous skill and could very easily end up a top ten rb at season's end, but his age and injury risk are the concern with this former number 1 fantasy back.
17. Felix Jones- I have been waiting for the Cowboys to make Jones the number 1 back for quite some time and they have finally done it. He reminds me of a poor mans LT as he possess great speed with ability to grind it out and he has solid hands, which make him a receiving threat. Jones is an impact fantasy player with home run potential. I expect Jason Garrett to make Jones a huge part of the offense and Jones could very well be the steal of this year's draft.
18. LeGarratte Blunt- I like everyone else was very surprised with Blunts 2010 season. He earned a shot last year and now is the top back for the Bucs heading into 2011. I typically am not a big fan of second year running backs who basically came out of nowhere, but Blunt does have a nice combo of size and speed and still has a lot to prove to the other 31 teams who decided against bringing them to their team. Blunt should go over 1000 yards and add around eight tds this season.
19. Knowshon Moreno- Moreno had a nice season in 2010 but fantasy owners are still waiting for that huge breakout season. He is on an awful team but John Fox has had a knack of getting a lot out of his running backs. This could be Moreno's year to shine.
20. Deangelo Williams- I was surprised that Williams re-signed with the panthers and disappointed from a fantasy standpoint. The move decreases his fantasy value as he will be again paired with fellow rb Jonathon Stewart. Williams is also coming off injury so buyer beware this season with Williams, he is always a hit or miss fantasy player.
21. Peyton Hillis- Last years biggest surprise was undoubtedly Peyton Hillis. However it would be tough to see him duplicate his production from last season. He wouldn't be on my radar, but he was also not on my radar last season either. Hillis is probably the most interesting fantasy player this season, you don't want to draft him to high and then again you do not want to kick yourself for letting his pass. This is a perfect spot for Hillis.
22. Marshawn Lynch- Lynch had a monster playoffs and may have found a home in Seattle. I always liked Lynch, if he continues to be motivated and play to his talent level, he will be a solid fantasy running back this season.
23. BenJarvus Green-Ellis- another guy who came out of nowhere onto the fantasy scene last year as Green-Ellis rushed for 13 tds in 2010. I like Green-Ellis and think this is just about where he should be ranked. Again he is not a guy you should reach for but could also be a very valuable commodity in 2011.
24. Mark Ingram- Ingram landed in a very good situation when the Saints drafted him in the first round back in April. Saints backs typically do well for fantasy purposes and it seems that Ingram should be the top guy in New Orleans. They do have Pierre Thomas and Chris Ivory who should see carries, but Ingram will be the number 1 option on a terrific offense.
25. Cedric Benson- Benson is a very solid back and you know what you're getting with him from a fantasy standpoint. He won't show a lot of flash but should be good for 1050 and 6-8 tds. Benson is back in Cincinnati for another year and will look for a big deal next year, which should motivate him.
26. Fred Jackson- Very nice year for Fred Jackson in 2010. He really saved the Bills after C.J Spiller did not have the year they were looking for. I like Jackson as a flex player and rb3 this season as he seems to be the clear starter in Buffalo.
27. Jahvid Best- The Lions lost rookie running back Mikel Leshoure already in camp with a torn Achilles and now Best will be again looked upon as the number 1 back in Detroit. He is a nice flex option and has good upside.
28. Ryan Grant- Grant when healthy is a top 15-fantasy back. We will see if he can stay healthy, monitor his situation in camp and preseason. If hee looks good you can feel free to move Grant up this list and it would not be out of the question to have Grant in your week 1 lineup.
29. Joseph Addai- Here is another guy who is affective when healthy. Addai needs to have a good year and might get more touches this season then in years past. Addai is a good backup who has the potential to give you more.
30. Ryan Matthews- I liked Matthews a lot last season and was disappointed. Mike Tolbert took away the goal line carries and Matthews never was really acclimated to the offense. Matthews could be a guy to break out this season if he is given the opportunity. He has a lot of potential but monitor the matthews-tolbert situation throughout camp.
31. Ryan Torain- Mike Shanahan will eventually get a monster season out of a running back just ask Terrell Davis, Mike Anderson, Mike Bell, Clinton Portis and plenty other of his former 1,000 yard rusher in Denver. Torain is a nice sleeper in 2011. You can also look out for Roy Helu another guy who could be the one for Shanahan.
32. Jonathon Stewart- I would have Stewart in the top 15-20 if Deangelo Williams had gone elsewhere. Stewart is still a nice backup to have on your roster.
33. Brandon Jacobs- Still a threat for double-digit tds but not as big of a part of the offense last season.
34. Mike Tolbert- Like I said for Matthews monitor the Charger running back situation in camp. Tolbert is a back worth having on your roster, like Jacobs he is a threat for double-digit tds.
35. Beanie Wells- Beanie should be the number 1 back in Arizona, but it seems like it's never a great fantasy situation for running backs out in the desert. It could be that way again this year with rookie Ryan Williams in the fold.
36. Reggie Bush- Bush always has that potential to have a big season. He should get the opportunity in Miami.
37. Michael Bush- Bush is a big back who is used frequently in Oakland. He should eventually be a starter somewhere in the league but despite being the number 2 in Oakland he does have some fantasy intrigue.
38. Rashad Jennings- He is the backup to MJD in Jacksonville but showed flashes last season of a solid running back. If MJD is not healthy Jennings will be the number one back, he already should take away carries as it is.
39. James Starks- Starks May end up being the number two in Green Bay, but he showed he has skills and if Grant falters Starks will be a good back to have on your roster.
40. Montario Hardesty- He was going to be the number one back for the Browns last season until he went out for the season. He is back now and could see time for the Browns this season.
Next up: The Wide Receivers