Top 10 Centers in the NBA


10. Nene Hilario, Denver Nuggets
2010 Stats: 13.8ppg 7.6rpg 1.4spg 1bpg
     Nene isn't a center that dominates any particular statistical category but he's great paint defender. He lead all Centers in steals and steals per game as well as averaging one rejection. He's not too bad offensively either finishing third in field goal percentage


9. Andrew Bynum, Los Angeles Lakers
2010 Stats: 15ppg 8.3rpg 1.4bpg
    He could be one of the top five centers in the league if he could stay out of the trainers office, but it seems that a Bynum knee injury is a rite of spring.


8. Marc Gasol, Memphis Grizzlies 
2010 Stats: 14.6ppg 9.3rpg 1spg 1.6bpg
    He's following is his older brothers footsteps, although his numbers are overall not as good as Pau's were in his first two seasons. Marc is putting up more rebounds, and he is on a more talented Memphis team.
2010 Stats: 18.5ppg 9.3rpg 1.2bpg
     Kaman, is another player like Zach Randolph, who finally put it all together and had his best season yet. Another season like 2010 could get him his first all-star selection.
6. Brook Lopez, New Jersey Nets
2010 Stats: 18.8ppg 8.6rpg 1.7bpg
    Brook Lopez had an outstanding sophomore season. Unfortunately, he was doing it while playing for a team that was having one of the worst seasons in NBA history.




5. Joakim Noah, Chicago Bulls
2010 Stats: 10.7ppg 11rpg 1.6bpg
    He is a decent scorer but an outstanding rebounder, defender, hustler and judging by his reactions to a referee whistle he has never committed a foul in his professional career.
  
4. Al Jefferson, Utah Jazz
2010 Stats; 17.1ppg 9.3rpg 1.3bpg
   The Jazz won't miss Boozer much with the addition of Jefferson and he is going to love the opportunities all-world point guard Derron Williams is going to create for him. We could see Jefferson's already impressive numbers spike.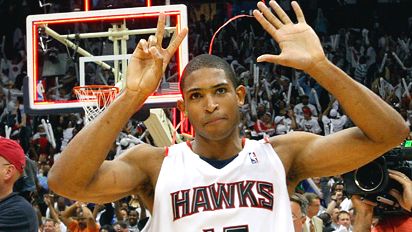 3. Al Horford, Atlanta Hawks
2010 Stats: 14.2ppg 9.9rp 1.1bpg
    Horford was selected to his first all-star team last season. Although he wasn't as deserving as select few others (namely the center ranked ahead of him, and his teammate Josh Smith), he was still deserving. Horford may be a power forward on some other teams but on the athletic Hawks he is a perfect fit for the Center position. 
    Up until last season I used to call him Andrew Bogus (credit Stephen A. Smith for the nickname). Well I'll bite my tongue, because Bogut seems to finally be living up to his #1 pick expectations. 


1. Dwight Howard, Orlando Magic
2010 Stats: 18.3ppg 13.2rpg 2.8bpg 
    Ramos and I have condemned Dwight Howard in the past, but he is far and beyond the best big-man in basketball and the most athletic Center ever. He has a firm grip on the Defensive Player of the Year award and will probably be the first player to win it three years in a row. Now if he could just get a damn drop-step.


Honorable mention: Yao Ming (Houston Rockets),  Andrea Bargnani (Toronto Raptors), Shaquille O'Neal (Boston Celtics), Brendan Haywood (Dallas Mavericks)